A Business Center
Catered to Your Needs
Premium Business Services
Premium Business Services Only For You!
Serviced Office
HJ Business Center offers various-sized offices, the largest of which accommodates up to 20 persons, making it suitable for clients who wish to manage flexible work forces.
Such workforces include small venture companies, Task Force Teams in large companies, liaison offices of foreign companies located in Korea, and many more.
Luxurious interior furniture

Air-conditioning

Spacious rooms designed to maximize work efficiency

High-speed Ethernet/Internet throughout the center
Conference Room
The conference rooms in HJ Business Center provide comfortable meeting environments that maximize concentration.
Meeting attendants will be served complimentary snacks and beverages at their convenience. Various sizes to accommodate 4, 6, 8, 12, 15 or 60 persons.
Various sizes to accommodate 4, 6, 8, 12, 15 or 54 people

Luxurious interior finish and comfortable chairs

Beverage and snack service included

Luxurious glass panel white board, latest beam projector,

Video conferencing facility with 75" large monitor or dual panel screen
Virtual Office
If you need an address for your business registration or simply a contact point in Seoul, you may want to consider our Virtual Office option.
Our Virtual Office provides what few companies offer:
a premium, individual business address for anything from business cards to legal documents, thereby allowing clients to avoid the expenses of an actual office.
Rental fees at HJ Business Center are a fraction of what you would pay elsewhere for a premium address with similar services.
Provide mailing address for business registration in Seoul

Dispatch and receive normal, registered and express mail

Provide voice-secretary service with individual phone numbers

Free use of business lounge and conference rooms at discounted prices
Secretary Service
Need something faxed or printed?
Our secretaries are more than happy to help you in various administrative services, saving you fixed costs.
Give your guests a warm welcome.

Don't worry about missed calls.

Get your items delivered quickly.

Have us deal with the "little things".

Get your materials printed hassle-free.
Office Residents/ Daily Clients
"We are proud to be your partner and help your business succeed."


















HJ Membership App
HJ Business Center gives you a series of opportunities via our smart-phone app for the reservation of all facilities of Gangnam Center and Gwanghwamun Center and the collaboration through the community with other members.
Notice
You can easily check out any and all important notices that
our members should be informed with.
Member Feed

This is for the community consisting our members. Don't miss the opportunity of collaboration and other information.
Reservation of Conference Room
You can book our conference room and relaxing room
even easier. You can also do inter-branch reservation of conference room between Gangnam and Gwanghwamun Center.
Member Profile
You can see the brief introduction and information of our members. Check out what type of business your next door member do.
Download the HJ Membership app on your smart phone, and book a conference room at your intended branch either in Gangnam and Gwanghwamun, or a relaxing room for the rest of your day.
Now experience the marvelous conveniences of the HJ Membership. (
Google Play
/
App Store
)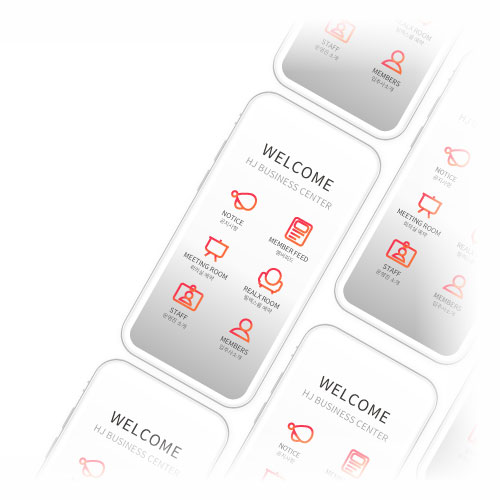 If you are looking for a reasonably priced comfortable and friendly office environment with excellent professional services, HJ Business Center is the right choice for you.

Tour Request
* To find out more regarding location and address, click the balloon on the map.
Inquiry via phone
Adderss
HJBC Gwanghwamun
20th Floor, Gwanghwamun Bldg., 149 Sejong Dae Ro, Jongro-gu, Seoul
HJBC Gangnam
3, 4, 5th Floor, Shinil Bldg., 425 Teheran-ro, Gangnam-gu, Seoul
E-mail